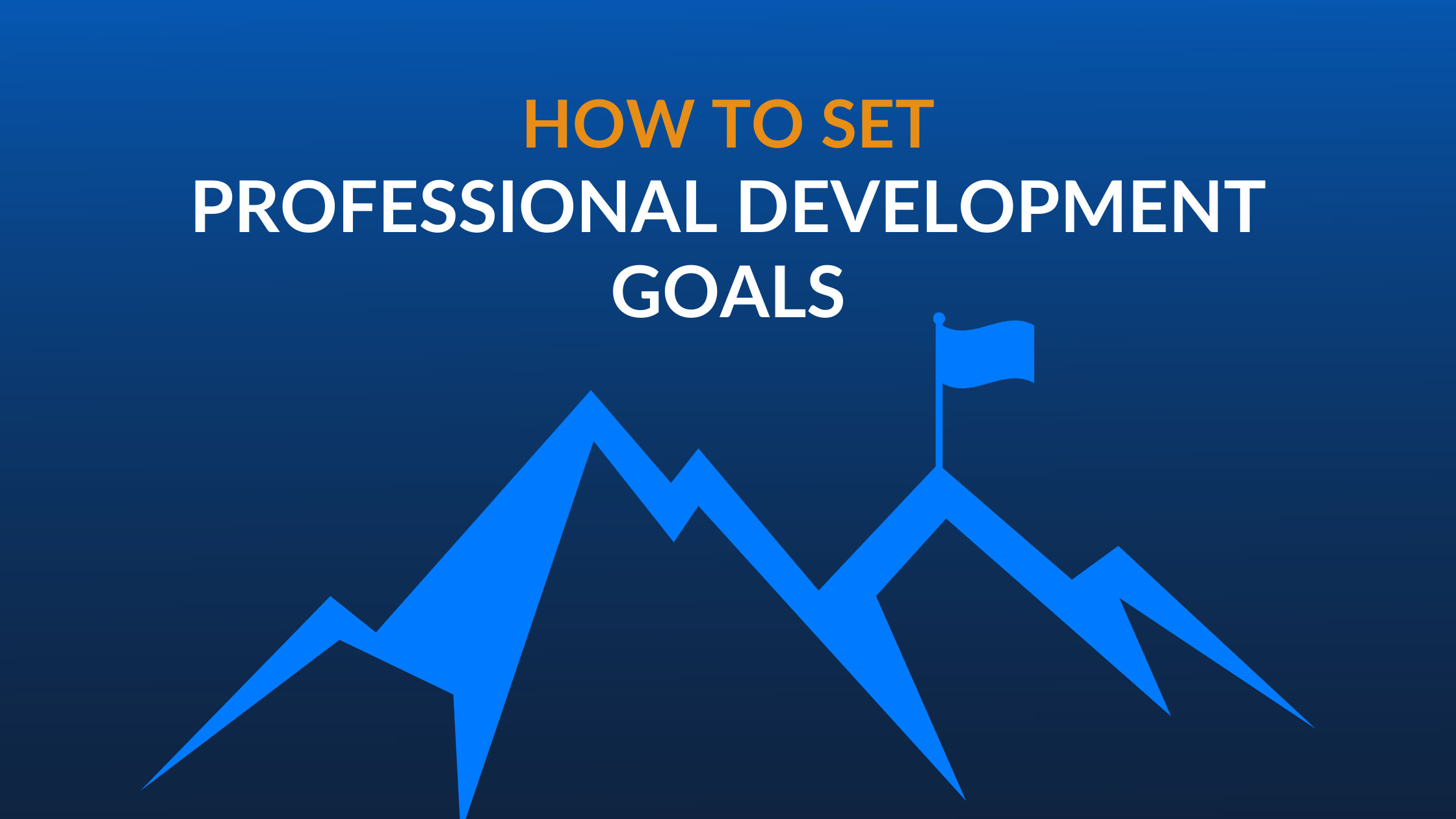 How to Set Professional Development Goals
---
Professional development makes you a well-rounded, adaptable, and highly marketable person. But creating a realistic and effective plan for the future of your career sounds like an exhausting endeavor.
Here's how to set realistic professional development goals so you can prepare for the next step in your career.

What is Professional Development?
The definition of professional development is any type of learning an individual engages with to earn or maintain professional knowledge or credentials.
Generally speaking, professional development refers to any specialized training, formal education, or advanced professional learning that helps individuals improve professional knowledge, competence, skills, and effectiveness.
The term is often used synonymously with 'personal development'. Although the two work hand-in-hand toward your overall development, there are some key differences you should know.
Personal development works to strengthen your mental or social skills, while professional development is focused on improving applicable knowledge and skills to enhance your competency and potential at work.
Put simply, professional development enhances what you can do while personal development enhances how you do it.

Why Professional Development is Important
Professional development makes you a more adaptable, well-rounded worker by keeping you up to date on changes in technologies, industry trends, and in-demand skills.
Actively investing in your own professional development can help you improve your capabilities and launch you into the next stage of your career.
So how important is professional development? Here are just a few reasons why professional development matters:


You don't always need advanced university degrees to qualify for higher-level or upper management positions. Professional development training, certification programs, and other credentials are often just as important to highlight on your resume.
Professional development programs show potential employers that you are serious about your career. Taking relevant courses for your role are bound to help you excel in getting a new position in or out of your company.


Explore new interests and skills
Aside from strengthening existing skills, professional development allows you to explore other interests.
If you want to learn more about a certain software, for example, you can simply attend courses on the subject. Similarly, if you are considering a career change, you can get started by exploring other topics.


Education and income are closely aligned. The more skills you possess, the more valuable you are to employers.
Showing that you are knowledgeable through professional development will support your cause when it comes to salary negotiations.


Innovation is important and shows that you are capable of translating ideas into useful goods or services.
Investing in professional development training will keep you engaged in your work, current on industry advancements, and help you remain innovative.


5 Steps to Setting Professional Development Goals
Below is a step-by-step guide on how to set your professional development goals.


1. Establish your end goal
Your car's GPS cannot give you driving directions unless you type in a destination. The rules same apply to your professional development plan. Write down what your ultimate career goals are and reverse engineer your strategy from there.
Some questions you can ask yourself when determining your professional development goals:
Am I hoping to advance, or move up, in the position or industry I currently work in?
Am I trying to make a lateral career shift, such as changing job functions or seeking a similar position in a different industry?
Is there a specific skill or knowledge area I want to learn or enhance?


2. Document where you stand
When identifying the skills you want to learn, don't forget to take note of the things you already know. For instance, if you have expert-level project management skills, then you might not include those courses in your professional development plan.
You can also reference your latest performance review with your boss to see what areas you need to improve.

3. Research what is needed to reach goal
You need to create a reasonable, actionable strategy to achieve your professional development goals.
If you are working toward a promotion at work, what credentials are needed to qualify you for that position?
If you are working toward a certification, what training programs do you need to complete — and in what time frame?

4. Make your objectives SMART
SMART stands for specific, measurable, attainable, relevant, and time bound. The SMART model is a helpful framework to use when planning your professional development journey.
The SMART prototype helps you set realistic short- and long-term goals so you don't feel defeated if you don't see results right away.

5. Make it work with your schedule
Your professional development training should be convenient and enjoyable. You don't want to invest money into a program that disrupts your work-life balance or makes it difficult to accomplish.
Once you find the right training program, you can start your journey.

Examples of Professional Development Goals
It's likely you already have specific professional development goals in mind. However, you may be struggling to put your thoughts into actionable written objectives.
Below are some professional development goals examples to help you set an objective and kickstart your learning:
Example 1: I will earn a SHRM certification because I want to improve my technical and interpersonal abilities as an HR specialist.


Example 2: I will take relevant leadership training courses to prepare me for an upcoming promotion.


Example 3: I want to become more advanced in Microsoft Excel, a program I often struggle to navigate.
Lorman has everything you need to reach your professional development goals. Learn how you can advance your career with the All-Access Pass.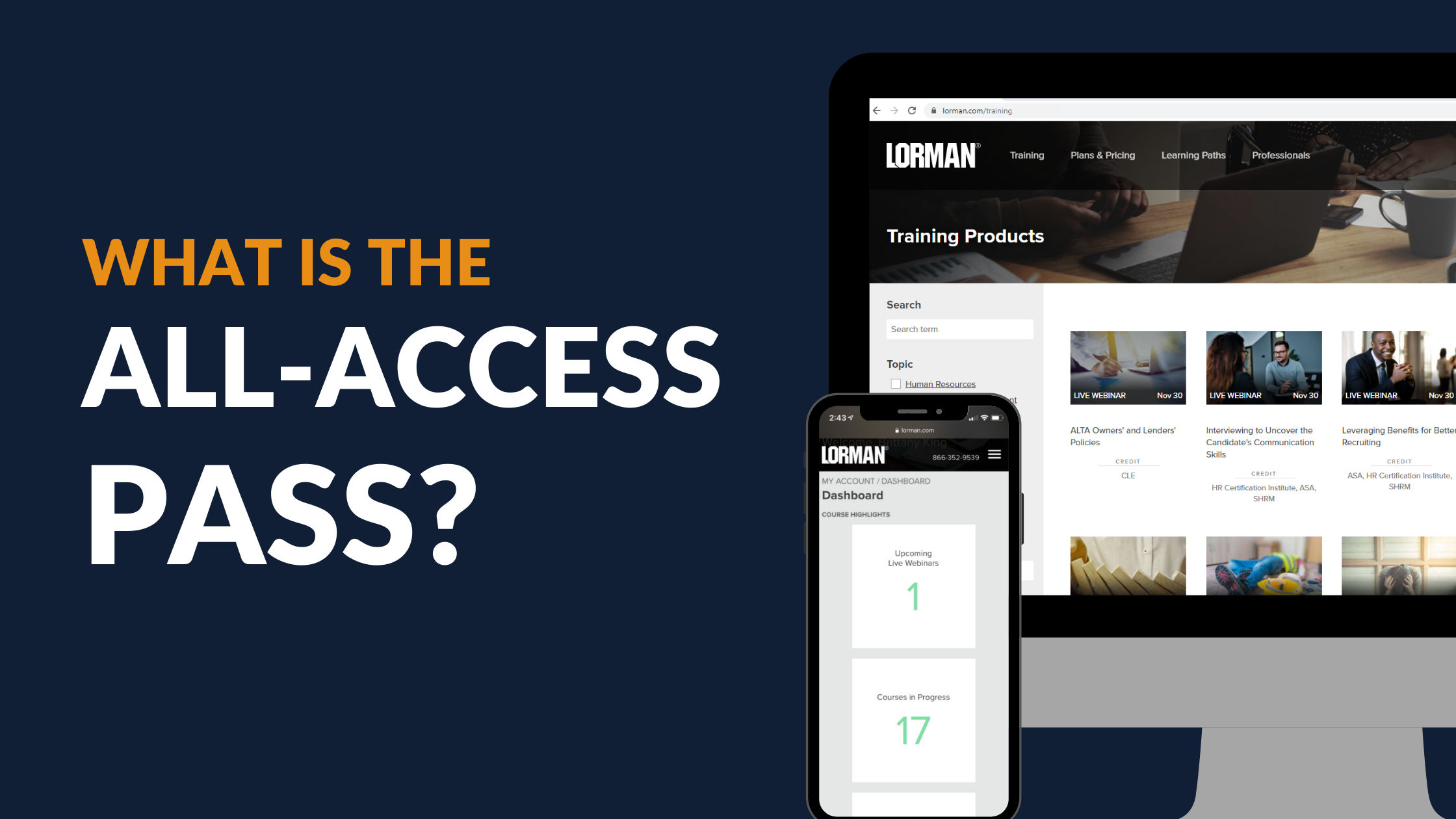 The All-Access Pass lets you take control of your professional development with unlimited access to our Learning Library.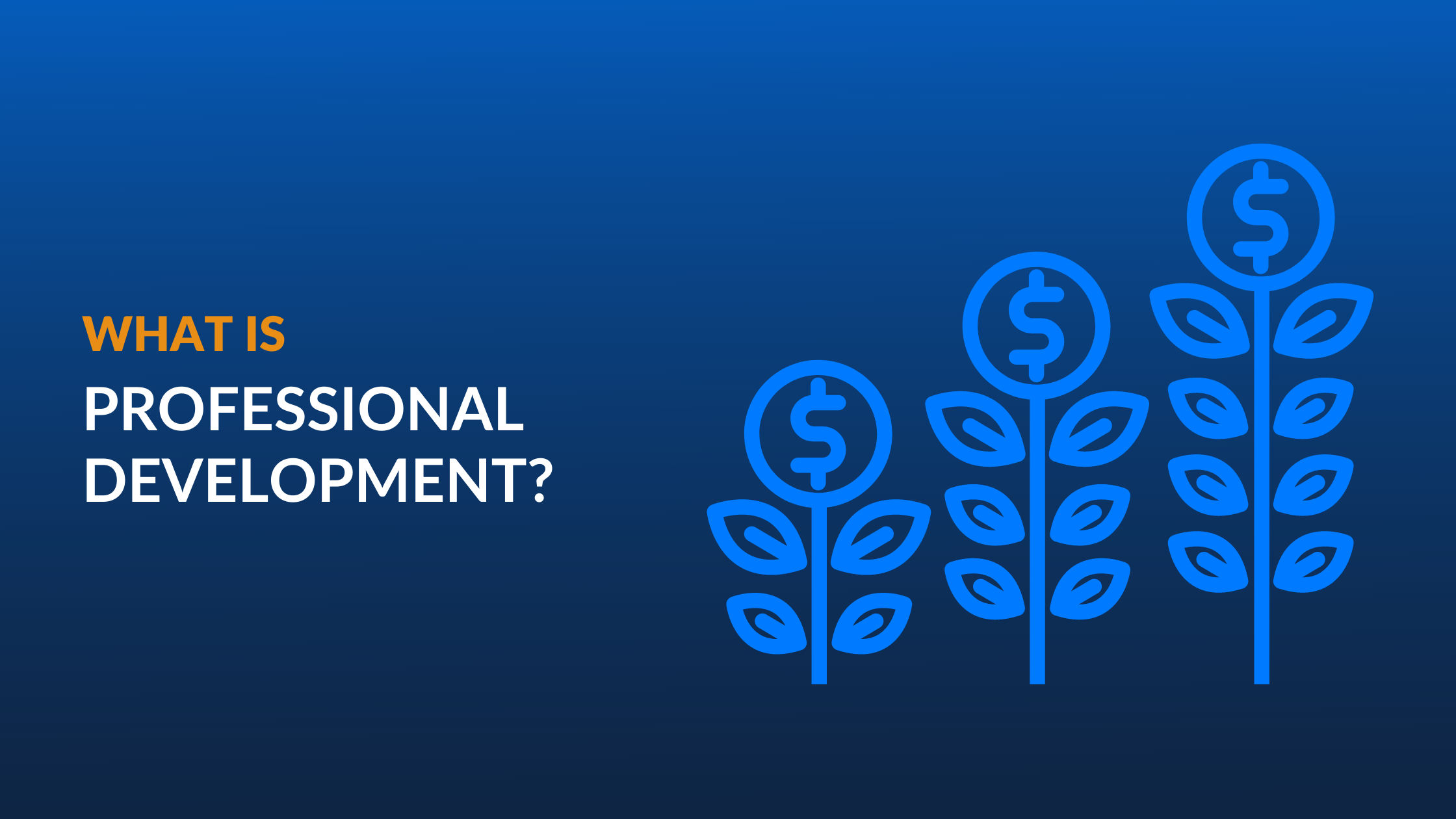 Professional development important for everyone — whether you're an employee or the employer within an organization. It allows you to have the required skill sets to contribute to overall organizational success and achieve the most in your career.
Learn five strategies and benefits of learning from failure, along with suggested ways to prevent repeat failures.