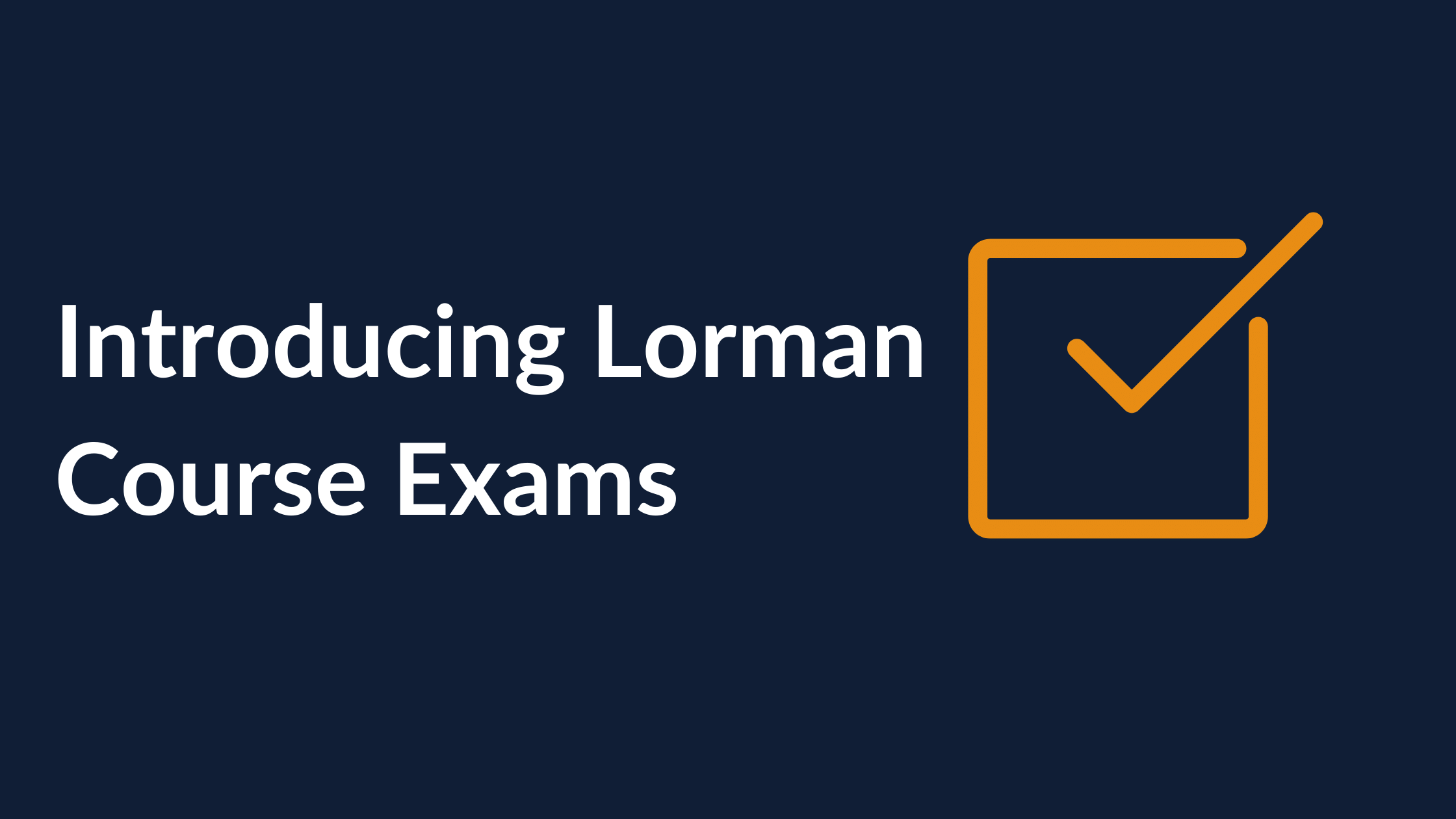 ---
Lorman is pleased to introduce Course Exams, our enhanced post-course testing capabilities for online learners and enterprise account and team admins.

Over the past year, driven in part by the training industry's response to COVID-19, we've seen significant growth in demand for virtual instructor-led training across all subject areas, including continuing education and professional development—for both hard and soft skills.

Online courses provide a host of cost and convenience benefits, which means that VLIT is here to stay! However, we recognize that self-directed, online courses require two approaches to monitoring performance, checking knowledge transfer, and providing instructor feedback.
With Course Exams, Lorman will offer new flexibility in post-course testing as a way to ensure that people taking select Lorman courses have internalized the core learning objectives.

Course Exams are already available for select Lorman courses, and we're adding more exams weekly, which means you'll start seeing more Course Exams available as we ramp up our schedule. While not every course has a Course Exam created yet, we are working hard to ensure that we prioritize the creation of Course Exams for every relevant course as quickly as possible.

What is our priority for adding Course Exams?

Where An Exam Is Required to Earn CEUs: Many of our certification partners require a post-course test to ensure the learner has attended the course (and paid attention!). In addition to course progress checks, we'll incorporate post-course exams as a knowledge check.

When Provided by The Instructor: The course curriculum development is a partnership between Lorman and our industry expert trainers. Many of our instructors have developed tests that accompany their courses, and we'll be adding those as Course Exams.

When Lorman Course Development Team Sees an Opportunity: To create the nearly 100 new courses we launch each month, the Lorman course development team already works with instructors to review course content and identify the relevant learning objectives for course descriptions. Course Exams are a natural evolution of the work we're already doing, and our team will add them when we see an opportunity.

As Requested by our Enterprise Customers: Our Enterprise customers already work with us to help guide our curriculum development. If you have a need for a post-course knowledge check, feel free to work with your customer success representative to see if we can add a Course Exam for the desired course.

Making Course Exams valuable to the learning & development leader:
Our default pass rate is set at 70% but can be modified as required by certifying organizations or enterprise or team administrators. For example, some of our customers want their employees to achieve a score of 100% for particular courses—with Course Exams, they'll have the flexibility to set the expectations that meet their needs.

Enterprise admins and team leads will also have some additional flexibility to customize Course Exams for their teams.

First, you'll have the ability to monitor the pass rates and overall results of all learners on their teams, for all courses attended using the Lorman Enterprise All-Access Pass. You'll know how many questions were asked, and how many the learner got correct.

You'll also be able to set the pass rate. Our default pass rate is set at 70% but can be modified as required by certifying organizations or enterprise or team administrators. Of course, requirements specified by an accreditation body will apply to any course offering continuing education credit. But for company learning objectives, you'll have the flexibility to set the expectations that meet their needs with Course Exams.
Course Exams are a useful tool for a team or organization's Learning & Development program.

Exams absolutely should be a useful tool for company training admins! Questions should provide some level of understanding of the content, and help demonstrate that your learners are getting the desired learning.

Contact your Lorman account rep for more information.
Lorman is proud to announce a brand-new feature—course deadlines. This tool will allow enterprise account administrators to tell learners when assigned courses need to be completed.